full of comedy and circus skills.
Physical comedy professionals with a very careful aesthetic, a powerful body work and clown complicity. An explosive couple that began their career in 2017, from Argentina to the world.

Black Cat, White Cat?

Cats are agile, they jump, contorts and spin in the air. It is also said that they chase away bad spirits and negative energies. Just like this duo of clown acrobats with the laughter and pirouettes they generate.

Black and white is a metaphor of contrast: the giant and the small, with different characters and opposite personalities. At the same time, they complement each other in their differences. If you see them, it is humor at first sight.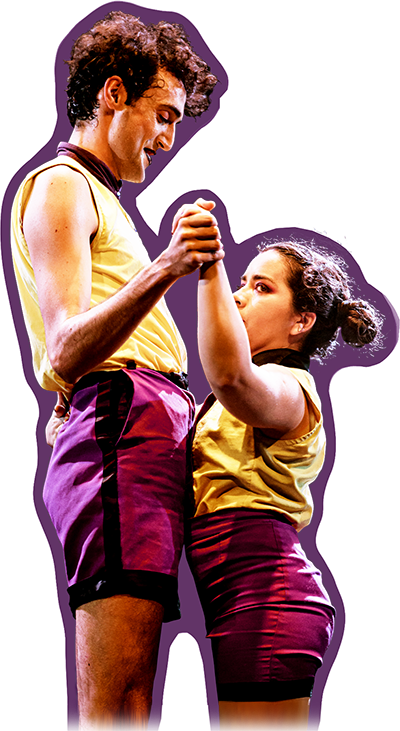 His kilometric legs, clownish gestures, and juggling dance makes him an unique specimen in his tribe. After failing the attempt of being an engineer, he decided to slightly change the course of his life and dedicate himself to circus theater. He studied a career in Street Theater and Circus Art Performance and also keeps on studying clowning, juggling, and acrobatics with many Argentinian and foreign professors.
She's an Arian, she lifts up giants as feathers on her shoulders. An escenic art performer student since her entire life. Actress with a framed diploma on the wall, comedian, and clown. Dancer since her teenage years, now as a young woman discovers the acrobatic world in the air, on the ground and upon many human beings. She fell in love with the circus and has sworn an everlasting love to it.
A show that humorously breaks the borders of time and space. Two globetrotting and extravagant clowns land on the scene and wordlessly tell tales about their land and the ones they visited. From South America, with its tangos and latin rhythms, across the ocean to fashionable streets, going around the planet back to the Viking Age. They immerse their audience in a comic delirium that will make them laugh out loud, surprise them and, at the same time, leave space for reflection in the guise of a joke. Will they have enough time?
"Atempo" is a circus-theater show that combines physical comedy, acrobatics, juggling and archery. A show with no spoken words, "Gato Blanco Gato Negro" presents a popular comedy for all audiences.
As it's been thought to be performed while on the road, it has very few technical requirements: a minimum space of 5x5x5 meters (width, length, height); a suitable sound equipment for the space; a minijack cable that reaches the stage.